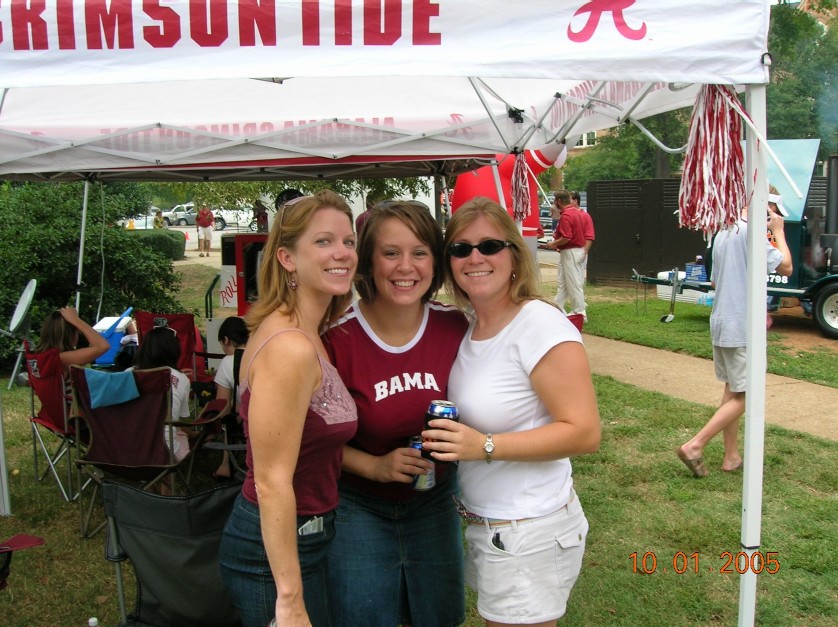 My good buddy Carrie(center) and her AOπ sisters Lacey(L) & Christa(R) on the Quad at the 2005 UA/uf game!


Click here for the new seating chart of Bryant-Denny Stadium!
Look for me in section KK.
Bryant-Denny is now the largest stadium in Alabama and the 5th largest on-campus stadium in the country!

NEW!
I have added 2 new clips from the movie "Crimson Tide" staring Gene Hackman and Denzel Washington. These are from the scene where Hackman gives his pep talk before they all board the U.S.S. Alabama. The first is the officers saying "Go Bama" and the seamen following with "Roll Tide". The second is the full clip of Hackman's pep talk leading up to "Go Bama", In order to make file size lower and still have the full CD-quality sound clip, I converted these two clips to MP3 format, at 64Kbps. The .wav file for the second clip was over 12 MB!
Go Bama.mp3 22 KB, Stereo, 2.7 seconds
My Boat.mp3 568 KB, Stero, 72 seconds
Click on one of the links below to download the University of Alabama Fight Song. The first is the whole thing, but the quality isn't quite as good. The second is very good but short and a much smaller file.
Bama.au 672 KB
Alabama.mp3 47 KB

NEW!

---
2006 Crimson Tide Football
Date
Opponent
Location
UA - Op W/L
September 2
Hawaii
Tuscaloosa
25 - 17 W
September 9
Vanderbilt
Tuscaloosa
-
September 16
Louisana
Monroe
Tuscaloosa
-
September 23
Arkansas
Fayetteville, AR
-
September 30
Florida
Gainesville, FL
-
October 7
Duke
Tuscaloosa
-
October 14
Ole Miss
Tuscaloosa
-
October 21
Tennessee
Knoxville, TN
-
October 28
Florida
International(HC)
Tuscaloosa
-
November 4
Miss St
Tuscaloosa
-
November 11
L.S.U.
Baton Rouge, LA
-
November 18
Auburn
Tuscaloosa
-

December 4

Florida

SEC Championship

-

TBD
TBD
Bowl Game
-

Record:

Overall, SEC

1-0, 0-0
---
2005 Crimson Tide Football
Date
Opponent
Location
UA - Op W/L
September 3
Middle
Tennessee State
Tuscaloosa
26 - 7 W
September 10
Southern Miss
Tuscaloosa
30 - 21 W
September 17
South Carolina
Columbia, SC
37 - 14 W
September 24
Arkansas
Tuscaloosa
24 - 13 W
October 1
#5 Florida
Tuscaloosa
31 - 3 W
October 8
Open
October 15
Ole Miss
Oxford, MS
13 - 10 W
October 22
#17 Tennessee
Tuscaloosa
6 - 3 W
October 29
Utah State
Tuscaloosa (HC)
35 - 3 W
November 5
Miss St
Starkville, MS
17 - 0 W
November 12
#5 L.S.U.
Tuscaloosa
13 - 16 L
November 19
#11 auburn
Auburn
18 - 28 L
January 2, 2006
#18 Texas Tech
Cotton Bowl
Dallas, TX
13 - 10 W

Record:

Overall, SEC

10-2,6-2
---
2004 Crimson Tide Football
Date
Opponent
Location
UA - Op W/L
September 4
Utah State
Tuscaloosa
48 - 17 W
September 11
Ole Miss
Tuscaloosa
28 - 7 W
September 18
Western
Carolina
Tuscaloosa
52 - 0 W
September 25
Arkansas
Fayetteville, AR
10 - 27 L
October 2
South Carolina
Tuscaloosa
3 - 20 L
October 9
Kentucky
Lexington, KY
45 - 17 W
October 16
Southern
Miss(HC)
Tuscaloosa
27 - 3 W
October 23
Tennessee
Knoxville
13 - 17 L
October 30
Open
November 6
Miss St
Tuscaloosa
30 - 14 W
November 13
L.S.U.
Baton Rouge, LA
10 - 26 L
November 20
Auburn
Tuscaloosa
13 - 21 L
December 31
Minnesota
Music City Bowl
Nashville, TN
16 - 20 L

Record:

Overall, SEC

6-6, 3-5
---
2003 Crimson Tide Football
Date
Opponent
Location
UA - Op W/L
August 30
South Florida
Birmingham
40 - 17 W
September 6
Oklahoma
Tuscaloosa
13 - 20 L
September 13
Kentucky
Tuscaloosa
27 - 17 W
September 20
Northern
Illinois
Tuscaloosa
16 - 19 L
September 27
Arkansas
Tuscaloosa
31 - 34 L
October 4
Georgia
Athens, GA
23 - 37 L
October 11
Southern
Mississippi
Tuscaloosa
17 - 3 W
October 18
Ole Miss
Oxford, MS
28 - 43 L
October 25
Tennessee
Tuscaloosa
43 - 51 L
(5OT)
November 1
Open
November 8
Miss St
Starkville, MS
38 - 0 W
November 15
L.S.U.
Tuscaloosa
3 - 27 L
November 22
Auburn
Auburn
23 - 28 L
November 29
Hawaii
Honolulu, HI
29 - 37 L

Record:

Overall, SEC

4-9,2-6
---
2002 Crimson Tide Football
Date
Opponent
Location
UA - Op W/L
August 31
M.T.S.U.
Birmingham
39 - 34 W
September 7
#2 Oklahoma
Norman, OK
27 - 37 L
September 14
North Texas
Tuscaloosa
33 - 7 W
September 21
Southern
Mississippi
Tuscaloosa
20 - 7 W
September 28
Arkansas
Fayetteville, AR
30 - 12 W
October 5
#6 Georgia
Tuscaloosa
25 - 27 L
October 12
Open
October 19
Ole Miss
Tuscaloosa (HC)
42 - 7 W
October 26
Tennessee
Knoxville
34 - 14 W
November 2
Vanderbilt
Nashville, TN
30 - 8 W
November 9
Miss St
Tuscaloosa
28 - 14 W
November 16
L.S.U.
Baton Rouge, LA
31 - 0 W
November 23
Auburn
Tuscaloosa
7 - 17 L
November 30
Hawaii
Honolulu
21 - 16 W

Record:

Overall, SEC

10-3, 6-2
---
2001 Crimson Tide Football
Date
Opponent
Location
UA - Op W/L
September 1
U.C.L.A.
Tuscaloosa
17 - 20 L
September 8
Vanderbilt
Nashville, TN
12 - 9 W
September 15
Southern
Mississippi
Birmingham
Rescheduled
November 29
September 22
Arkansas
Tuscaloosa
31 - 10 W
September 29
South Carolina
Columbia, SC
36 - 37 L
October 6
U.T.E.P.
Birmingham
56 - 7 W
October 13
Ole Miss
Oxford, MS
24 - 27 L
October 20
Tennessee
Tuscaloosa
24 - 35 L
October 27
Open
November 3
L.S.U.
Tuscaloosa
21 - 35 L
November 10
Miss St
Tuscaloosa
24 - 17 W
November 17
Auburn
Auburn
31 - 7 W
November 29
Southern
Mississippi
Birmingham
28 - 15 W
December 27
Iowa State
Independence Bowl
Shreveport, Louisiana
14- 13 W

Record:

Overall, SEC

7-5, 4-4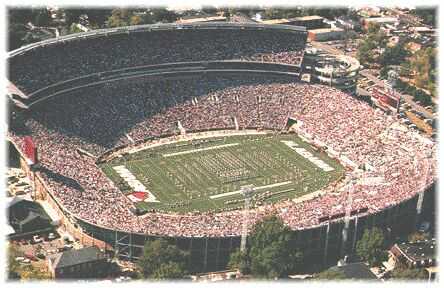 Here is the pre-expansion Bryant-Denny Stadium

2000 Alabama Crimson Tide Football

Date

Opponent

Location

UA&nbsp - Op&nbsp W/L

September 2

U.C.L.A.

Pasadena, CA

24-35 L

September 9

Vanderbilt

Birmingham

28-10 W

September 16

Southern
Mississippi

Birmingham

0-21 L

September 23

Arkansas

Fayetteville

21-28 L

September 30

South Carolina

Tuscaloosa

27-17 W

October 7

Open

October 14

Ole Miss

Tuscaloosa

45- 7 W

October 21

Tennessee

Knoxville

10-20 L

October 28

Central Florida
(HC)

Tuscaloosa

38-40 L

November 4

LSU

Baton Rouge

28-30 L

November 11

Miss. St

Starkville

7-29 L

November 18

Auburn

Tuscaloosa

0- 9 L

Record:

Overall, SEC

3-8, 3-5
---
1999 Alabama Crimson Tide Football

Date

Opponent

Location

UA - Op W/L

September 4

Vanderbilt

Nashville

28-17 W

September 11

Houston

Birmingham

37-10 W

September 18

Louisiana Tech

Birmingham

28-29 L

September 25

Arkansas

Tuscaloosa

35-28 W

October 2

Florida

Gainesville

40-39 W

October 9

Open

October 16

Ole Miss

Oxford

30-24 W

October 23

Tennessee

Tuscaloosa

7-21 L

October 30

Southern Miss

Tuscaloosa

35-14 W

November 6

LSU

Tuscaloosa

23-17 W

November 13

Miss. St

Tuscaloosa

19- 7 W

November 20

Auburn

Auburn

28-17 W

December 4

Florida

SEC Championship

34- 7 W

January 1, 2000

Michigan

Orange Bowl

34-35 L

Record:

Overall, SEC

10-3, 8-1
---
1998 Alabama Crimson Tide Football

Date

Opponent

Location

UA - Op W/L

September 5

Brigham Young

Tuscaloosa

38-31 W

September 12

Vanderbilt

Birmingham

32- 7 W

September 19

Open

September 26

Arkansas

Fayettville

6-42 L

October 3

Florida

Tuscaloosa

10-16 L

October 10

Ole Miss

Tuscaloosa

20-17 W

October 17

East Carolina

Birmingham

23-22 W

October 24

Tennessee

Knoxville

18-35 L

October 31

Southern Miss

Tuscaloosa

30-20 W

November 7

LSU

Baton Rouge

22-16 W

November 14

Miss. St

Starkville

14-26 L

November 21

Auburn

Birmingham

31-17 W

December 29

Virginia Tech

Music City Bowl

7-38 L

Final Record:

Overall, SEC

7-5, 4-4